Helicopter rescue training at Penwyllt
by PCW ~, 02 October 2009
By Gareth Jones
Sunday last, I visited my country club, and found an RAF Rescue helicopter landing - this was a pre-arranged joint training exercise. WBCRT had kept quiet about this, to avoid car and crowd control problems on the car park landing site. I only turned up by chance.

They had flown for 30' from N Devon. When they stepped out after the rotors had stopped turning, they included the usual male macho winchmen, used to doing circus tricks on the end of a long wire, but the pilot was a young slip of a girl. And I thought the military was just for men. In fact, Laura was a superb pilot, flying with such fluency that even the WBCRT supercargo could not complain of air-sickness. We owe these service personnel a great deal of respect, as their next posting may well be in Afghanistan, perhaps evacuating battlefield casualties under fire.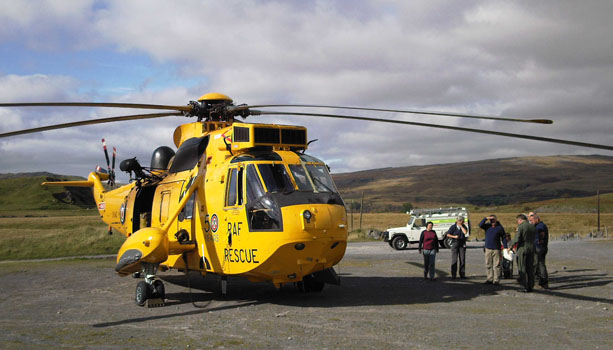 all photos by Gareth Jones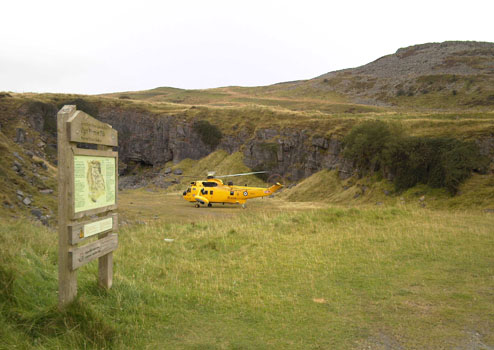 Anyway, we gave them tea, and they showed us how to jump in and out without injury, and how to be winched up and down in the strop, controlled by the winchman, also a trained paramedic. As part of our joint risk assessment procedure, we also warned them about the recent outbreak of cannibalism in these remote valleys communities, when the meat ration runs out, as reported by the BBC, which never lies (ref Torchwood). And the copter landed in the floor of the quarry, just where Torchwood had camped. Was this just a coincidence? (ref X-Files).

My pics are a mere bagatelle, on my 5MP Samsung G600 mobi, with no zoom whatever. As you see from the interior shot, Ian Alderman was the chief photographer, with a 25MP camera, and he was on the flight, and so produced mid-air pics. When last seen, he was adjusting colour and contrast with Light Room 2 on his 420 pics.
The 'copter was a £2M job, costing £8,000 per hour to run. Good day all round.