4th/5th December ~ Words and Pictures by Chris Grimmett.
This weekend at the Club proved to be an interesting one for the few members and visitors who managed to make it there. The ice melted during Friday afternoon and the road up the hill was salted but evening snow caused trouble for those arriving later.
The Club Chairman once again managed to arrive just in time for Graham to offer his towing services (again).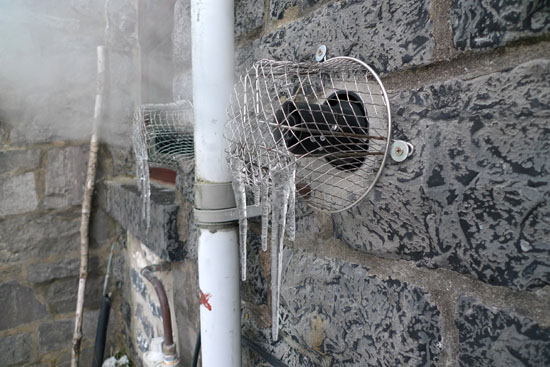 Even the boiler vents were not immune.
An expedition to the water tanks up on the Byvre on Friday had established that everything was well frozen up and drinking water had to be brought up from the valley; many thanks to Mick and Judy. Meanwhile Brian sorted out a burst pipe above No.8.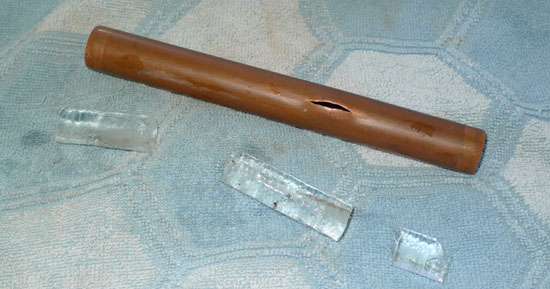 The offending splt pipe in the loft.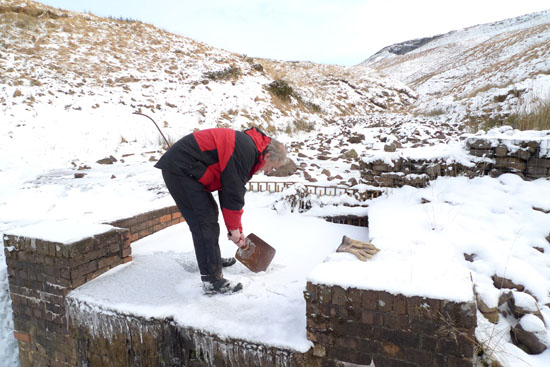 Clark Friend chipping away at the Greenland ice field.
Saturday saw a second attempt up at the water tanks but efforts to clear the ice failed once again. Although there was no further snowfall, temperatures remained low. There was sufficient water in the roof tanks to keep the services running and with everyone bringing containers of drinking water, it all worked out. Sunday dawned bright and not too cold and turned out to be a superb day.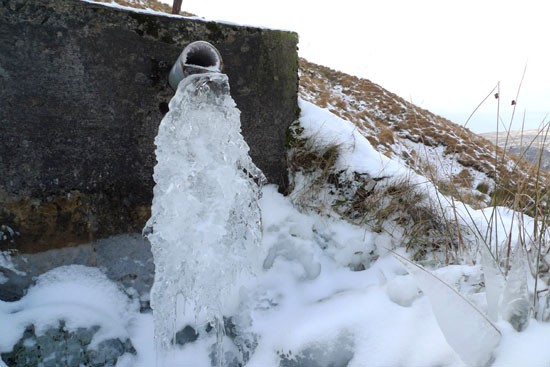 No flow anymore methinks.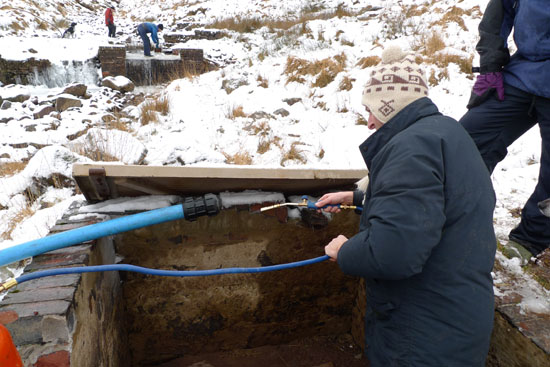 Ian alderman turns on his blistering charm, this time on a frozen pipe . . .
The water supply to the Club remains frozen and looks as if it might be that way for a while. It is critically important that the supply is turned off at the two main taps in the cottages before the last person leaves. It is quite possible that when the supply is restored, more leaks inside the buildings will become apparent. The first tap is on the blue alkathene pipe running up the corner of the locker room in No.3. The second tap is downstairs in No.8 behind the fire door in the corridor.
The ice crew were: Graham Christian, Ian Alderman, Clark Friend, Allan Richardson, Toby Dryden, Harvey Lomas, Bob Radcliffe, Judy and Mick Day, Chris Grimmett.