Bill Birchenough
by PCW ~, 17 October 2012
from Jem Rowland - President
Members will be saddened to hear that Bill Birchenough passed away on Monday 15th Oct.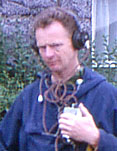 Always known in the club as 'Bill Birch', he joined the club in 1958, was a very active member through the 1960s, and his interest in the club continued for many years beyond. He served for several years on the club committee, as Tackle Manager and as Warden, and was a member of the 'Planning Committee' set up to organise the move to the 'new' HQ at Penwyllt in 1960.
He was a key player in the first Balinka Pit (Yugoslavia) expedition in 1964 and was the first and only one to reach the -650ft level, having used timber to engineer a way of getting the cage past an awkward slot at -550ft. His tenacity was again displayed during the extensive blasting efforts to push the Cwm Dwr crawl, when on one occasion he finished up in Morriston Hospital, having spent too much time working in banger smoke which apparently caused him to exhale 'green foam'!
Bill built the club's first 'radio location' device for use in caves. A transmitter was placed in the cave, and a receiver used on the surface; each had an aerial a bit like a car steering wheel. The aerial in the cave was placed horizontally and the one on the surface was used as a direction finder, eventually locating the point on the surface immediately above the transmitter. It worked well. Its primary use was in improving the accuracy of cave surveys and it was also used to help find the point at which to dig into OFD Top Entrance.
See photos of Bill outside SWCC with his location device and near the brickworks with Bruce Foster (l) and Charles Freeman.