Dai Hunt and Edith Jones
by PCW ~, 12 February 2013
We are sad to hear that Dai Hunt (pic) and Edith Jones have recently passed away.
Both were involved with the Club in the early years.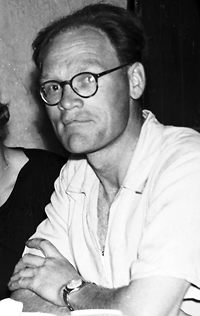 "Dai Hunt was a quiet, unassuming man, who was in the midst of SWCC activities throughout the 1950s and 1960s. He was Secretary from 1952 until 1954.
A very fine cave photographer, with an excellent eye for a picture and a technique to match, Dai took very many photographs, mainly on a medium format Rolleiflex. We are fortunate to have copies, and originals, of many his prints and slides in the SWCC archive. As well as being fine pictures in themselves, they form an important historical record, documenting the early days of cave exploration in the Upper Swansea Valley. [Some are on display in the SWCC dining room]
He remained an active caver up until the late 1960s and for many years afterwards would occasionally project his high quality 6x6 slides in the Long Common Room in an evening. His active interest in photography continued throughout the remainder of his life and he was closely involved with the Barry Camera Club and the Welsh Photographic Federation.
Dai was one of the few remaining from the very early days of SWCC and we are fortunate that his photographic legacy will stay with us." ~ Jem Rowland
Edith was the wife of Neil Jones (aka Big Neil / Gentle Giant), active in the 50s, 60s and 70s, and by all accounts as lovely and gentle as her husband.