Buzz mag loves caving!
by PCW ~, 21 February 2013
In December we were visted by the editor (and friends) of Buzz magazine - a well established whats-on guide for South Wales. Claire had invited them to sample life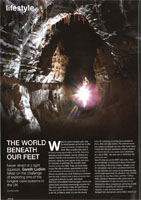 above and below ground from an SWCC point of view. We looked after them for the day, it was a lot of fun and the Old Girl OFD did not disappoint.
We have a double page spread in the Feb Issue, with pictures.
" The camraderie of the experience is certainly evident, and it's a lot of fun to help each other out, perhaps laugh a little when they get stuck or wet, and discover together some amazing sights. Spending time with friends in the cottages afterwards, drinking in front of the fire, or outside in the summer, . . . " read more
Couldn't have put it better myself!
(thanks to caver models Tony Knibbs and Felicity Norman)