A cracking May weekend
by PCW ~, 11 May 2013
Bank Holiday weekend - more going on than you could shake your (hazel) stick at!
"We made our own entertainment in them days", might have been written for last weekend. Scroll down to discover what a host of club members got up to - and that's just the things I know about!
AGM - ok let's get this bit over quick. Not everyone's favourite, but an essential part of Club life as it underpins much of the rest of the fun stuff. Suffice it to say that we got through business pretty quick - about 50 of you showed up. Amongst other things:

Welcome to new Committee members:
Rachel Coulson and Christiane Michel who will be assiting Andy Freem and getting to know the ropes. Hayley Meredith is taking over OFD Permits, big thanks to Janine Graham for a great job, largely unseen. Vince Allkins is taking over the Rescue Liaison role, again thanks to Pete Hobson for his work. Claire Vivian is formally on board as Meets Sec, something she has been doing anyway for a while.
The rest of us are in roles as before - see here. Please get in contact about anything at all.
Hut fees and Subscriptions have been increased a bit, due to inflation and increased costs. Your subs are due now. Please pay early and claim your discount!
Some important streamlining and clarifying of the Constitution was explained by Jem Rowland and was voted through. Thanks to Jem and his advisors for a lot of detailed work.
We are reducing the Provisional Member's rate to £10 for this year to try to attract new members, and will be focussing on our visiting student groups to encourage that age group to join up.
The Ceilidh - was another barn-storming success, 4 hours of dancing, leaping about and stripping the willow backwards. With thanks going out all over the shop, but mainly to Lel for organising along with her "we are not Dragons!" cooking team (the Eaton Mess especially, was to die for), and the amazing Bear Band yet again.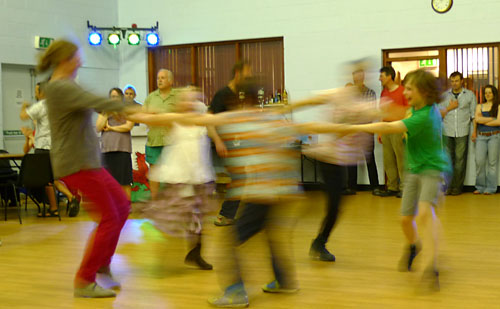 Caving - many folk disappeared in different directions looking cleanish, and returned later looking grubby. Two trips of note were: James Hallihan (9) went to The Columns ably guided and roped by his safety advisors Claire V and PCW while his father made a video. Ben Vaughan (13) bottomed Pwll Dwfn on SRT, with Jo White rigging and Jeff Wade de-rigging. Well done all. (pics by Piers Hallihan and Jeff Wade)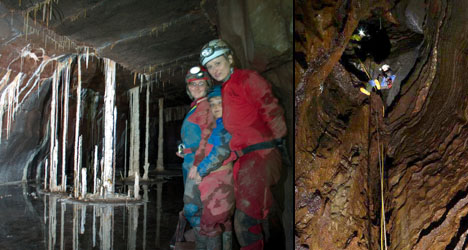 Sitting outside - it was warm enough - with the sun out - to be outside in the most pleasant SWCC ritual of tea and biscuits with dogs (various) underneath waiting for crumbs.
Dowsing - hazel twigs and twirly metal rods were in evidence and even some sceptics were won over as Ian Alderman's kept bashing him on the forehead as he passed over drains or passage.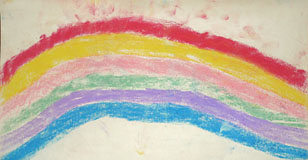 Kid's auction - our smaller members Arily R, Arwen H, Emily M, James H and Tomos G had produced some very colourful artwork and installations that would amaze the Tate. One of the best was "waterproof boat". Pete Francis worked his usual magic on the assembled adults, and around £60 was made for their "Jenny's Charity" (Myeloma UK). A great result!
Singing - Sunday evening heard a full-throated rendition of much of the Penwyllt Song Book. Tim Lewingdon had cameras and recorders dotted about the place, and is going to produce an edited version for internal consumption. He's asked me to thank everyone for such a great turnout - long live tradition!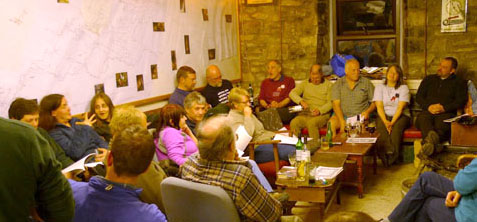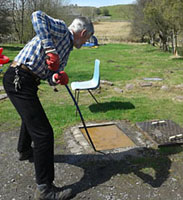 Plunging - We cavers are nothing if not down-to-earth, and Brian is to be commended for dealing with a threatening effluent situation with gusto and a strategically placed safety-chair.