Words and Pictures by Mark Burkey
Claire, Duncan, Mark H, Jess and I arrived at the car park at the unholy hour of 08.15 to be met by our guide for the day Paul Taylor. Our first stop after suiting up was to take a look from the view point down at river Wye winding its way down the valley. Paul pointed out where the cave was to us and we then headed down through the dense undergrowth.
The gated entrance to the cave gives no indication of what is in store and I knew nothing other than the cave was tidal and it would be muddy, so I was in for a real treat!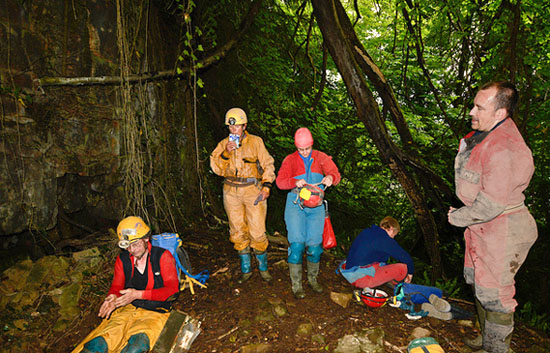 Kitting up
After signing the logbook we headed in. The entrance series is immediately flat out and muddy but soon opens out in to larger passage. We soon made our way over Pyramid Step, down Breakdown Passage to the tidal sump. Here we paused to have some refreshment and listen to stories of the cave's original discovery from Paul.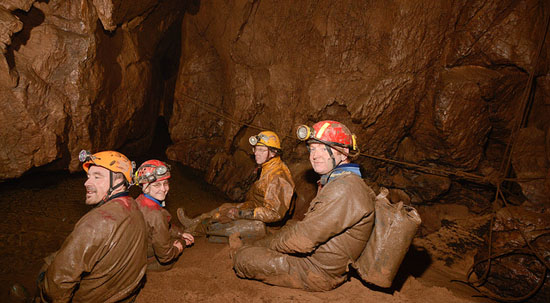 Tidal Sump
The water level below the 'Eye Hole' was fairly low and we quickly paddled our way through, up the ladder and through choke 1. After a short traverse we were again plodding our way through larger passage to easy stream way to the second choke.
After this we took some time to wash ourselves off thoroughly before heading through more muddy passage in the Link Crawl!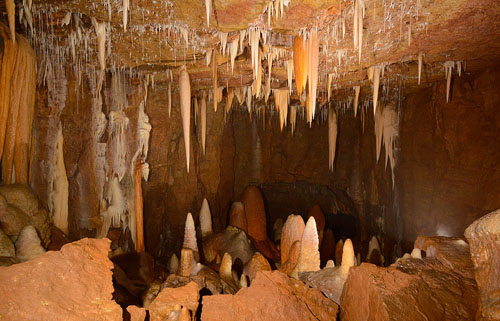 Hall of 30 from above
Reaching 'The Extension' we were immediately wowed by the pretty formations before us. Every corner we turned seemed to impossibly become prettier than the last until the huge stalagmites and stalactites of the Hall of 30 loomed in to view to take our breath away. We could have happily spent the entire day with the formations we had already passed, but there was still more to come. We continued on to 'Long Straw Chamber' passing more beautiful curtains, stal's and columns of colours varying from Black to pure white dripping from ceilings that at one point became the brightest of reds.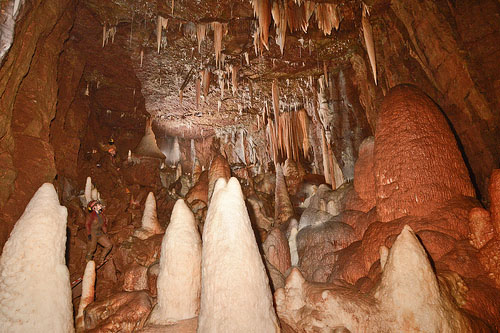 Hall of 30 from below
We had spent a fair amount of time drinking in the beauty of the cave to Long Straw Chamber and decided at this point that rather than rush through to the end we would spend some time on our return journey taking pictures and re-visiting Otter's amazing chambers.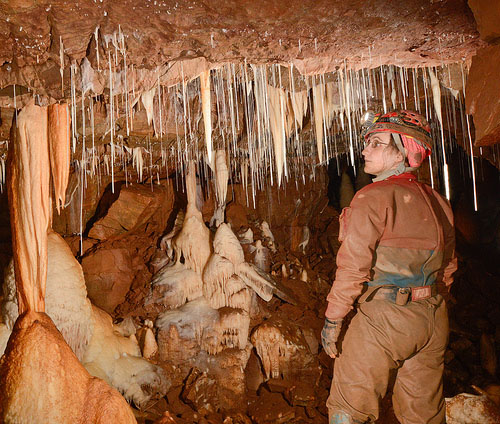 Pretties
After further fun slipping and sliding through the mud on our way out we headed up the hill to give each other a good scrubbing at the bathtub before finally changing back at the car park and saying our farewells.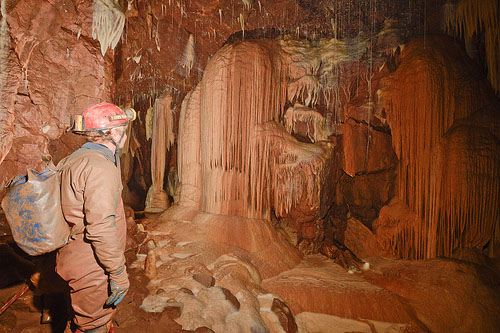 More pretties
On a personal note I would just like to thank Claire for all her hard work in organising these events, Paul Taylor for giving his time to lead us and the very interesting history told to us during the trip, and Mark H, Duncan and Jess who were great fun to cave with in this amazingly beautiful cave.
Present: Claire Vivian, Mark Hampson, Duncan Hornby, Jessica Harding & Mark Burkey