Deuxième Accident de Spéléo de la Semaine*
by PCW ~, 24 September 2014
Unless you have been living in space for the last couple of months, you will have heard of Jules Carter's escapades in the Aven de Hures, surviving a 40m fall, "un véritable miracle" and perhaps even Pete Hobson's random patella tendon snap in the Gouffre Malaval, both in the Tarn Gorge in the Massive Central, France on the same exped.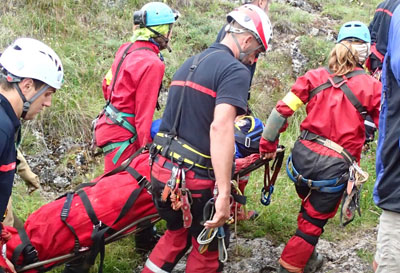 Jules has written up his adventure in his blog (inc gory pictures), while Pete's is covered here - in French. Our very own Dr Mandy was interviewed as well. Hats off to the French Cave Rescue and associated organisations.
Now please go research how you clip on at the top of a pitch and check how secure that is . .
* which roughly translated, means: "I say, bad luck or what?"