Dave Edwards and Heather Eteen
by PCW ~, 25 December 2014
I'm sorry to have to give the very sad news that Lel's step-dad Dave Edwards passed away on the morning of Christmas Eve after his battle with cancer.
| | |
| --- | --- |
| | |
| Dave at Ogof Fest October 2011 | In his audio flashing t-shirt at the Ceilidh May 2014 |
And as if that wasn't enough, Heather (Moppy), Dave's partner and Lel's mum, suffered a stroke last friday and is conscious but in hospital.
[update] Sadly Heather passed away on 5th February having never really recovered from her stroke.
Dave and Heather were long-established and well-loved members of our Club and we were very glad to see them up at Penwyllt a few weeks ago despite Dave's declining health.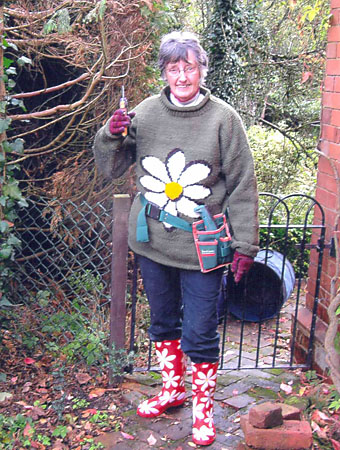 Moppy/Heather in her garden
I know that the whole Club joins together to send love and condolences to Lel and all of both their families at this unhappy time.
Dave's funeral will be at Llanelli Crematorium on 10th January, please contact Lel for more details.