Frank Baguley
by PCW ~, 12 March 2007
We are sad to report the passing of Frank Baguley, a long standing and very active member of the club in his day.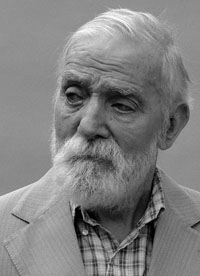 Frank, the son of a dentist, was born in Aberdare in 1915. It was there that he began his professional career as a school dentist.
He served in the war in the Army Dental Corps rising to the rank of Major, but perhaps more importantly meeting his wife, Ella, while stationed in Scotland. The couple returned to Aberdare where Frank resumed his civilian dental career and they brought up their son, Douglas.
Frank was always involved in sport…hill walking, canoeing, swimming, water polo, cycling. He was for a while a Diving Judge for the Welsh Amateur Swimming Association.

In 1963 he joined South Wales Caving Club and developed a lifetime passion for the underground.
He took part in both club expeditions to Balinka in 1964 and 1966 and it was Frank who developed much of the equipment that lead to the success of the venture to retrieve the partizans' bones from the bottom of the 950ft pit.
On a much sadder note it was Frank who was the one to identify the victims of the Aberfan disaster from their dental records. [He was also among the rescuers who searched for survivors when the colliery slag heap above the town slumped down over a school in October 1966]

In later life, when an accident in a cave caused him mobility problems, he continued to serve caving by being the secretary of Cambrian Caving Council, a part of the Cambrian Cave Registry, secretary of the National Caving Association (now BCA) and representing the caving world with many outside organisations where he was very well respected and even presented by an award for his service by the Welsh Sports Council.
He passed away last Saturday aged 91.
We extend our thoughts and condolences to his wife and family.
His funeral will take place on Friday,16th March, 2.00pm at Llwdcoed Crematorium,Aberdare (small road parallel to A465 near Baverstocks).
Family flowers only. Any donations to Wales Air Ambulance.
~ E Little
(photo by Ian Alderman)