Destruction, Caving and Cleaning
by PCW ~, 15 April 2007
Chris Grimmett reports:
Easter at Penwyllt was reasonably well attended and there were not the crowds of people that had been threatened.
The weather was unbelievably good with sustained sunshine over the holiday period and well into the week following. Rainfall had been small to non-existent and water levels were extremely low for the time of year.
Visiting the Club were reciprocal (and some possibly reciprocating) members of Craven Pothole Club, together with members of Sveriges Speleologforbund from Sweden. Easter Sunday saw the usual Columns trip, this one being different in that the warden went underground with a key that did not fit the lock on the gate. This problem was later rectified and Columns trips featuring the Columns themselves did take place on the following days so that nobody lost out on the opportunity.
Other trips rook place in Dan-yr-Ogof, OFD and even Little Neath River Cave where the water was reported not only to be low but also very warm. The Swedish contingent caved furiously, some of them coming out from their Columns trip and going straight on to Pant Mawr Pot. Later in the week, they had an overtide excursion into Otter Hole.
A pre-Working Week team started the trashing of the present Tackle Room (see pic) and resiting of its contents, while the Warden trashed a toaster by means of his now celebrated recipe for vertical cheese on toast. Chris Pepper attempted a repair, but the thing was too far gone. Work was carried out on Gents Showers, with the plan to have these operational by Working Week. The surveying team of Brian Clipstone and the Dobsons took advantage of the low water to reach parts of OFD that normally are inaccessible. When they were not doing that or working on the cottages, they went up the hill to divert what little water was in the stream into the top tank.
Follow the link to find out what the Working Week Team were up to . .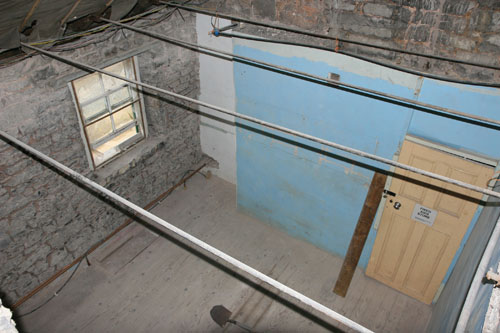 Our special thanks go to the Swedes who were not only exemplary visitors to the Club, but who also cleared up after themselves and more. The SWCC outside toiletcam picked up an image of Tanya bravely taking on the task of cleaning both toilets inside and out.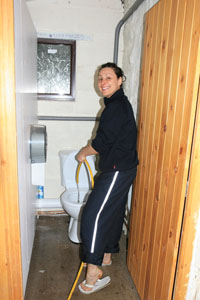 We look forward to seeing them all again next year; they are fun to go caving with as well, when they are not cleaning.

By Chris Grimmett