Dan yr Ogof flood rescue
by PCW ~, 21 March 2008
It began raining late morning last Saturday.
For the Llamas in the fields below the cave it was just another Welsh spring day.
Unfortunately for Joel Corrigan and Richard Frost, who had just gone into Dan yr Ogof a little earlier it was going to be anything but just another Danny caving trip.
By late afternoon the road down from Penwyllt was awash, and it kept going all night . . .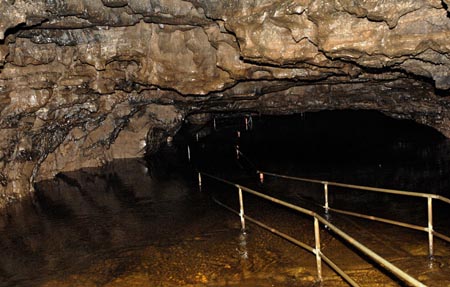 Lake One looks particularly foreboding and sump-like.
All photos courtesy of Carl Ryan ~ Red Mist Extreme Photography
News stories:
Teams bid to reach trapped cavers. BBC News
Trapped cavers reach surface. BBC News
Rescued potholers to return to cave tomorrow.icWales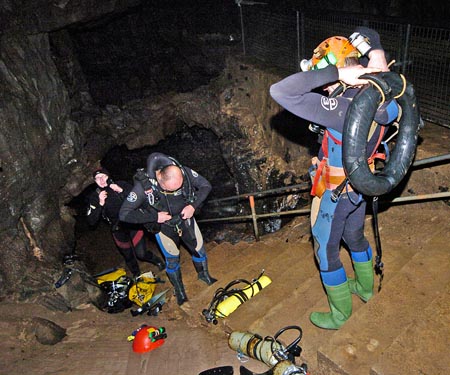 Divers John Volanthen, Gavin Newman and Rick Stanton kitting up.
Rick, Gavin and John passed lakes 1, 2 and 3 and then got supplies to Joel and Richard via Pot Sump as the cascades were impassable.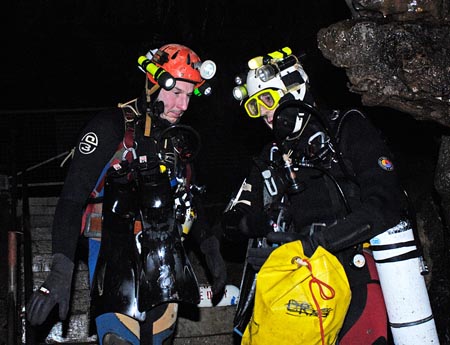 Rick and John with supplies, hot packs and soup to take through the sumps.
Luckily by mid-morning on Sunday the rain stopped and the sun came out. By 7 that evening the lakes had gone down just enough, and the guys came out under their own steam after 30 hours underground. A small scale rescue (by Welsh standards) largely because there was nothing to be done but man the phones, send the divers in and wait for the water to recede.
| | |
| --- | --- |
| | |
| Richard and Joel (L & R) with Vince Allkins on the safe side of the wet stuff. | The foam on Joel's helmet tells its own story . . . |